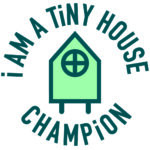 Housing for Degrowth — available as an eBook, Paperback and hardcover in the Routledge Environmental Humanities series (August 2018)— co-edited with Francois Schneider. The collection presents valuable, mainly activist-scholar, responses to the challenges posed in creating housing for degrowth. Read the transcript of an interview with the editors about the book in the RED Conservation Series.
For details on our events in our European tour from 26 October to 4 December 2018 see our schedule.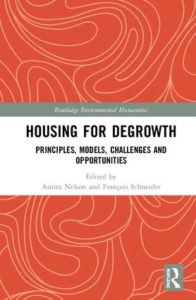 'Degrowth' — a type of 'postgrowth' — is becoming a strong political, practical and cultural movement for down-scaling material and energy throughputs in our economies. In short, degrowth is about transforming societies beyond capitalist growth and other forms of productivism to achieve global sustainability and satisfy everyone's basic needs. Degrowth values are based on sufficiency and conviviality, living a one planet lifestyle with low impact on the environment.
One planet living means conserving and retrofitting buildings for sustainability, allowing for 'alternative' self- and group-builds, temporary use-rights to buildings vacant for long periods prior to re-development, and appropriate and affordable eco-housing. Degrowth movement debates over urbanisation, decentralisation and 'open localism' are revealed so the collection is attractive for student, professional, academic and activist readers.
In many countries of the Global North empty, secondary and scarcely used buildings in cities and depopulated rural towns could be inhabited by households currently marginalised by high real estate prices. Contributors consider case studies including squatting, innovative financing of housing cooperatives, refurbishing (instead of demolishing) older social/public housing buildings, and 'tiny houses'.
Endorsements
This is a splendid and very readable book on housing and urban planning for degrowth. The degrowth perspective implies a decrease in the social metabolism and an increase in communality and conviviality. There are many chapters on actual types of degrowth housing in many countries and fundamental discussions of top-down versus bottom-up urban planning leading to these objectives. This book should become a textbook for courses in architecture, and urban and rural planning. — Joan Martinez Alier, Emeritus Professor of Economics and Economic History and Senior Researcher at ICTA, Autonomous University of Barcelona, and Co-director of the EJAtlas (www.ejatlas.org)
Degrowth is not just a theory — it is practice and it has policy implications. This fantastic collection of new essays shows how a degrowth mindset opens new ways of thinking alternatives and solutions to what is becoming a truly global housing crisis. — Giorgos Kallis, ICREA Research Professor at Universitat Autònoma de Barcelona, and a co-editor of Degrowth: A Vocabulary for a New Paradigm (2014)
This book brings together astonishingly rich views on sustainable urban development, wholly local but with a global coverage. It fits in with trends away from evermore centralised decision making for growth towards local independence. Decentralised autonomy can halt encroachment of global organisations in private life, with communal housing at its core. — Gjalt Huppes, Senior Researcher, Institute of Environmental Sciences (CML) at Leiden University, Netherlands
Media: Reviews and interviews
See two interviews with Anitra Nelson and François Schneider:
Vincent Cheynet, 'Habitat: L'urgence est d'arrêter de construire et de bitumer les sols' in the French degrowth broadsheet newspaper La Décroissance: Le Journal de la Joie de Vivre, December 2018–January 2019, p. 13.
Gamblin, Guillaume, 'Une dynamique internationale de recherches décroissantes' in Silence #476, March 2019, pp. 9–11.
See a transcript of a short talk on
Housing for Degrowth
and
Small is Necessary
at the
Localising Leanganook
conversation—Food for Thought blog.
See a print interview and a YouTube conversation between me and contributor to
Housing for Degrowth,
Natasha Verco,
here
.