I am an activist-scholar affiliated with the Centre for Urban Research (CUR) at RMIT University in Melbourne, Australia.
My book on eco-collaborative housing, Small Is Necessary: Shared Living on a Shared Planet, was published by Pluto Press (London) 20 January 2018.
Plut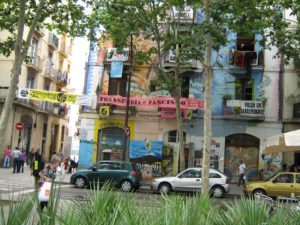 o also published Life Without Money: Building Fair and Sustainable Economies (2011), a nonmarket socialist collection that I co-edited with the late Frans Timmerman.
Degrowth advocate Francois Schneider and I have just launched the Routledge Environmental Humanities series collection that we co-edited — Housing for Degrowth: Principles, Models, Challenges and Opportunities, which came out 3 August 2018. At the end of October we embark on a European tour of the book — see my events page.
As the series editor, I am calling for book proposals for the new Palgrave Macmillan series — Alternatives and Futures: Cultures, Practices, Activism and Utopias. We have a few proposal in the pipeline and expect the series to become established in print later in 2019.
Qualifications
PhD, School of Humanities, La Trobe University, 1996
BA Honours (First Class), History Department, La Trobe University, 1979
Advanced Diploma of Professional Screenwriting (Film, TV, Digital Media), RMIT, 2001

Visiting Scholar, Fellowships and Awards
Shortlisted for 2017 AIPEN Richard Higgot Journal Article Prize
Carson Fellow (Prof. Dr) at the Rachel Carson Centre for Environment and Society of the Ludwig Maximilian University of Munich (October 2016 to January 2017)
Visiting Scholar, New School for Social Research, Economics Department, New York City (1 March–31 May 2012)
Honorable Mention at Canada's 6th International Picture This … Film Festival (PTF) 2006 for short film Mercury Stole My Fire (writer-director)
Merit Award at the US XXVII Superfest International Disability Film Festival (2007) for short film Mercury Stole My Fire (writer-director)
Postdoctoral Research Fellowship, Environment and Planning (Social Science and Planning), RMIT University (1998–2001)