I am an activist-scholar affiliated with the Melbourne Sustainable Society Institute (MSSI) at the University of Melbourne, Australia. Most of my academic activities coincide with my political and philosophical interests, indeed passions — listen to this Postcapitalism Podcast to find out more.
In August 2020 Pluto Press (London) published a degrowth book that I co-authored with Vincent Liegey — Exploring Degrowth: A Critical Guide. I also co-edited a degrowth collection with Ferne Edwards (NTNU, Norway), which was published in the Routledge Environmental Humanities series in late 2020 — Food for Degrowth: Perspectives and Practices.
In 2019 I was Chair of the Organising Committee of the Australian New Zealand Society of Ecological Economics ANZSEE 2019 Conference — Ecological Economics: Solutions Now and in the Future, 24–26 November, hosted by the RMIT University Centre for Urban Research (CUR), which I was affiliated with at that time. (I was at RMIT University for more than 21 years before joining MSSI.)
My book on eco-collaborative housing, Small Is Necessary: Shared Living on a Shared Planet, was published by Pluto Press (London) in 2018. I am associated with the international Eco-Communites in an Urban Future project, working on a chapter for a collection edited by Jenny Pickerill (University of Sheffield, UK). I am active in the Planning Working Group of Cohousing Australia. I am writing a chapter with Paul Chatterton for Post-Growth Planning: Cities Beyond the Market Economy and edited by Federico Savini, António Ferreira and Kim Carlotta von Schönfeld, due out late 2021.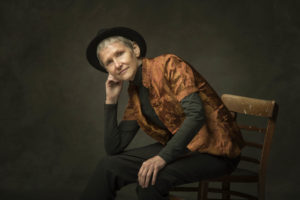 Pluto published Life Without Money: Building Fair and Sustainable Economies (2011), a nonmarket socialist collection that I co-edited with the late Frans Timmerman. Currently, I am writing a sole-authored book on the topic for publication by Pluto Press early 2022.
Degrowth advocate Francois Schneider and I launched the Routledge Environmental Humanities series collection that we co-edited — Housing for Degrowth: Principles, Models, Challenges and Opportunities after its publication 3 August 2018, embarking on a European tour of the book — see schedule.
As the series editor, I am calling for book proposals for the new Palgrave Macmillan series — Alternatives and Futures: Cultures, Practices, Activism and Utopias. We have several proposals in the pipeline and expect the series to become established in print in 2021. I am a series editors for the Pluto Press FireWorks series, which launched in 2020 with three titles.
Note: various portraits at this site were taken by Piccoli Photography.
Qualifications
PhD, School of Humanities, La Trobe University, 1996
BA Honours (First Class), History Department, La Trobe University, 1979
Advanced Diploma of Professional Screenwriting (Film, TV, Digital Media), RMIT, 2001

Visiting Scholar, Fellowships and Awards
Shortlisted for 2017 AIPEN Richard Higgot Journal Article Prize
Carson Fellow (Prof. Dr) at the Rachel Carson Centre for Environment and Society of the Ludwig Maximilian University of Munich (October 2016 to January 2017)
Visiting Scholar, New School for Social Research, Economics Department, New York City (1 March–31 May 2012)
Honorable Mention at Canada's 6th International Picture This … Film Festival (PTF) 2006 for short film Mercury Stole My Fire (writer-director)
Merit Award at the US XXVII Superfest International Disability Film Festival (2007) for short film Mercury Stole My Fire (writer-director)
Postdoctoral Research Fellowship, Environment and Planning (Social Science and Planning), RMIT University (1998–2001)