Life Without Money: Building Fair and Sustainable Economies (2011) is a collection explaining both why the institutions of money and the state prevent us from achieving socialism and how we might organise ourselves without monetary principles or state governance to collectively meet our basic needs. This line of thought is 'non-market socialism'.
Co-edited with Frans Timmerman — in the photo taken in the 1970s — the other contributors are Harry Cleaver, John O'Neill, Ariel Salleh, Terry Leahy, Adam Buick, Mihailo Markovic, Claudio Cattaneo, Kat Kincade and the Twin Oaks Community.
Published in hardcover, paperback and as an eBook by Pluto Press (London), the collection came out in a Korean edition published by Booksea Pub. (Paju) in July 2014.
Endorsements
Anitra Nelson and Frans Timmerman have assembled an indispensable collection … an essential guidebook for the great debate now unfolding and around which our hopes for a worthwhile future unfold.
Joel Kovel, author of Enemy of Nature (2002; 2007), founding editor Capitalism Nature Socialism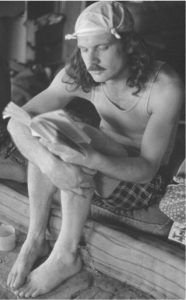 It comes as no surprise that Life Without Money: Building Fair and Sustainable Economies has attained status as a landmark contribution … a highly readable text … also a thought provoking assessment of the market-based status quo.
Phedeas Stephanides, International Journal of Community Currency Research 2012(16C), pp. 6–7.
the purpose of this collection is to begin to tease out the possibilities of a different economy and a sustainable relationship between society and nature.// All their prescriptions emphasise more democracy, local and regional self-sufficiency, more exchanges not dependent on money, and global equality and sharing … a book like Life Without Money may be the canary in the mine, signalling it's time to come up for some fresh air and new thinking.
Hall Greenland, GreenVoice (Autumn 2012)
Reviews
A review article 'Gifting economies: modelling economies at the grass roots' by Patrick Jones in Arena Magazine 119 (August 2012: 23–27) attracted four critiques and rebuttals, including from permaculture co-originator David Holmgren, over three subsequent issues (121–124).
A book review by David Barkin in Capitalism Nature Socialism 25 (2): 126–8 (online 27 November 2013) was responded to by Ariel Salleh on 128–31, 'A vernacular response…'.
Book review by Ted Trainer in Journal of Australian Political Economy 69 (Winter).
Book review by Phedeas Stephanides in the International Journal of Community Currency Research 16: C6–7.
Hall Greenland's review in GreenVoice (2012) Autumn: 6, 'Another world is possible (possibly)' Download Here.