Pluto Press, London
Publication date — 20 January 2022
Paperback, 240pp — GB£19.99 or A$43.99
Find at, or order through, your local bookstore.
Or, purchase online through Booktopia, in Australia or Pluto Press.
See events here
What would a world without money look like? This book offers a lively thought experiment of a world without money. Nelson shoes how money drives political power, environmental destruction and social inequality and argues for it to be abolished, rather than repurposed, to achieve a postcapitalist future. Grounded in historical debates about money, Nelson draws on a spectrum of political and economic thought and activism, including feminism, ecoanarchism, degrowth, autonomism, Marxism and ecosocialism. Looking to indigenous rights activism and a defence and advance of commoning, an international network of activists engaged in a fight for a money-free society emerges. Beyond Money shows that, by organising around post-money versions of the future, activists have a hope of creating a world that embodies radical values and visions.
Praise
Outstanding … a highly original and incisive analysis of the crippling role that money plays in today's global capitalist world. A must read. — Mike Berry, author of Justice and Democracy (2021) and The Affluent Society Revisted (2013)

In Beyond Money, Anitra Nelson provides a fascinating portal into arguments about why we need to get beyond money and into a wide variety of efforts already underway to do just that. — Harry Cleaver, author of 33 Lessons on Capital: Reading Marx Politically (2019) and Rupturing the Dialectic: The Struggle Against Work (2017)

A book for our time. Anitra Nelson takes us from theory to praxis in clear steps. Nelson's turn towards a materialist ecofeminist analysis is pure joy. — Ariel Salleh, author of Eco-Sufficiency & Global Justice: Women Write Political Ecology (2009)

Takes monetised economies head-on, demonstrating how they exacerbate ecological devastation and socio-economic inequality, and provides examples and pathways towards non-monetary economies based on real values. Does a great service to movements seeking social and ecological justice for all humans and other life forms. — Ashish Kothari, founder of Kalpavriksh and co-editor of Pluriverse (2019)

Challenges and inspires; a spur to action. — Helena Norberg-Hodge, author of Ancient Futures (1991/2016) and winner of the Alternative Nobel Prize

It is easier to imagine the end of capitalism than the end of money. Anitra Nelson's book challenges us to think what viable postcapitalisms without money could look like. — Giorgos Kallis, UAB, author of Limits (2019), co-author of The Case for Degrowth (2020)

If you had to choose one book to read on making the next political economy it should be this one. It will have you bristling with political energy. — Adam David Morton, University of Sydney, co-author of Global Capitalism, Global War, Global Crisis (2018)

An accessible and important book. If you want an alternative to economic and environmental disasters, you need to engage with her arguments.— Jeff Sparrow, writer, editor and broadcaster, author of Crimes Against Nature: Capitalism and Global Heating (2021)

A passionate critique of money as the root cause of our many problems, presenting a clear vision of how life without money could look like. Inspiring. — Matthias Schmelzer, Friedrich-Schiller-University Jena, author of The Hegemony of Growth (2016) and co-author of The Future is Degrowth (2022)

With a compelling narrative, Nelson lays out the unavoidable question of today's anti-capitalist, ecological politics — the question of money. Grounded in long-term political experience, her answer is at once elaborate and unequivocal: a wonderful tool for radical imagination and praxis. — Stefania Barca, University of Coimbra, author of Forces of Reproduction (2020) and Workers of the Earth (2022)

An exciting, original book that, in exploring the ritual structure of assets, capital, money and profit, helps open a way for more powerful, creative resistance. — Larry Lohmann, The Corner House, author of Carbon Trading: A Critical Conversation on Privatization and Power (2012) and co-author of Energy, Work and Finance (2014).

Can capitalism be overcome without challenging money? In this thought-provoking book, Anitra Nelson argues that moving beyond money is necessary for addressing inequalities and environmental unsustainability and shows how a non-monetary postcapitalist world might look like. — Ekaterina Chertkovskaya, Lund University, co-editor of Towards a Political Economy of Degrowth (2019)

Alternatives to capitalism, price-making markets and monetary values are essential for social-ecological transformation. Going well beyond typical economic discourse she opens the door of human potentiality to a different way of life. — Clive L. Spash, Vienna University of Economics & Business, author of Fundamentos para una Economía Ecológica y Social (2020) and editor of the Routledge Handbook of Ecological Economics: Nature and Society (2018)

Life against money … is a central theme of the current Zapatista Voyage for Life and … Anitra sings out this theme … I hope that this book … will put the abolition of money where it belongs, at the centre of radical, rebellious hope. — Foreword by John Holloway (October 2020), author of We are the Crisis of Capital (2018)

The great merit of this book is that it delineates very well that [Nelson's] underlying vision and helps us develop the parameters of our project of communal creation. I find Nelson's summary of that vision, near the end of the book, to be very inspiring … Not only is this vision very inspiring, its realization, or the realization of something much like it, is also very necessary at this fateful point in Earth history. — John P. Clark, author of The Impossible Community: Realizing Communitarian Anarchism (2013/2022) and Between Earth and Empire: From the Necrocene to the Beloved Community (2019)

compellingly written … a refreshing antidote to the "post-capitalism with money" camp … there can be no doubt about the importance and value of this book, putting centre-stage as it does ideas and discussions about how to dispense with capitalism and establish a new society based on collective production for direct use — Howard Moss, Socialist Party of Great Britain, here
Contents
Foreword by John Holloway
Preface
Capital and crises
Money: The universal equivalent
Yenomon: Commoning
System change not climate change
Women's liberation: Equality and values
Technology and the real debt cycle
Indigenous peoples, real values and the community mode of production
Occupy the world!
Annotated select reading list and links
Index
FORMATS and ORDERING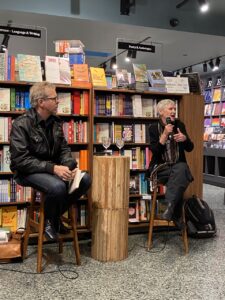 ISBN-13: 9780745340111 Paperback
ISBN 978 0 7453 4012 8 Hardback
ISBN 978 1 786807 80 9 PDF eBook
ISBN 978 1 786807 81 6 EPUB eBook
Find at, or order through, your local bookstore.
Or, purchase online through Booktopia, in Australia or Pluto Press.
MEDIA
Photos by Sue Jackson from Melbourme, Readings Carlton, launch with Jeff Sparrow.
Howard Moss, 'Post-capitalism: What will it look like?', The Socialist Standard #1418 October 2022.
Anitra Nelson interviewed by Victor Martinez on degrowth and postcapitalism for YouTube channel FutureXplorations, a series offering diverse perspectives on change, limits, humans and earth (to be posted 11 July 2022).
The New International Bookshop Reading Group convened by Lucy Myers is reading Beyond Money: A Postcapitalist Strategy from Friday 20 May, 11am-1pm, contact myerslucyc@gmail.com
'Book review: Beyond Money: A Postcapitalist Strategy by Anitra Nelson' by Prof. Leslie Sklair, 27 April 2022, LSE Review of Books.
Researchers' Desk (Sweden, online) seminar talk by Anitra Nelson on arguments in Beyond Money: A Postcapitalist Strategy relevant to climate change responses, 16 March 2022, recording here.
'Real valuism: A world beyond money' interview by Köves Alexandra, 6 March 2022, Economics for Rebels (a European Society for Ecological Economics (ESEE) podcast series).
'Real valuism and political economy' by Anitra Nelson, 3 March 2022, Progress in Political Economy (PPE).
'What would a world without money look like — Beyond bills' by Eve Upton-Clark (on an interview), 1 March 2022, Huck.
MEP talk and discussion on Beyond Money: A Postcapitalist Strategy, 26 February 2022, Marxist Education Project video, 111mins.
'Relocalizing technology' by Anitra Nelson, February 2022, Great Transition Initiative (GTI).
'Is postcapitalism post-money?' by Anitra Nelson, 10 February 2022, Radical Ecological Democracy (RED). Translated into Spanish thanks to A Planeta at the A Planeta site 28 August 2022 as '¿Es el post-capitalismo post-dinero?'