Food for Degrowth: Perspectives and Practices
edited by Anitra Nelson and Ferne Edwards
In-production with Routledge (Abingdon) — see here
A follow-on to Housing for Degrowth, this title appears in the Routledge Environmental Humanities series.
ISBNs: 978-0-367-43646-9 (hbk)     and     978-1-003-00482-0 (eBook)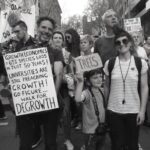 The great line up of contributors and chapter titles appears in the contents outlined below. By way of a preview you might like to watch some videos associated with the book's content: Logan Strenchock (author of Chapter 6 here) and videos on a range of topics at the channel of Patrick Jones and Meg Ulman (co-authors of Chapter 2) here.
CONTENTS
1. Food for degrowth — Anitra Nelson and Ferne Edwards
Part I Frugal abundance
2. Replacing growth with belonging economies: A neopeasant response — Patrick Jones and Meg Ulman
3 Quietly degrowing: Food self-provisioning in Central Europe — Petr Daněk and Petr Jehlička
4. Learning degrowth from women's food knowledge and care in Kenya — Meike Brückner
5. Caring dachas: Food self-provisioning in Eastern Europe through the lens of care — Lilian Pungas
Part II Degrowth collectives
6. Germinating degrowth? On-farm adaptation and survival in Hungarian alternative food networks — Logan Strenchock
7. Nourishing self-planned socio-ecological transformations: A glocal CSA in Veneto, Italy — Silvio Cristiano, Marco Auriemma, Paolo Cacciari, Manola Cervesato, Domenico Maffeo, Paola Malgaretto and Francesco Nordio
8. Sustaining caring livelihoods: Agro-ecological cooperativism in Catalonia — Patricia Homs, Gemma Flores-Pons and Adrià Martín Mayor
Part III Degrowth networks
9. Co-creation for transformation: Food for degrowth in Budapest Food City Lab initiatives — Diana Szakál and Bálint Balázs
10. Technology for degrowth: Implementing digital platforms for CSAs — Ferne Edwards and Ricard Espelt

11. Institutionalising degrowth: Exploring multi-level food governance — Ferne Edwards, Sérgio Pedro and Sara Rocha
Part IV Narratives: Degrowth contexts and futures
12. Recycling old ideals? A utopian reading of 'circular' food imaginaries — Deborah Lambert
13. Degrowth, decolonisation and food sovereignty in the Cree Nation of Chisasibi — Ioana Radu, Émilie Parent, Gabriel Snowboy, Bertie Wapachee and Geneviève Beaulieu
14. Food waste or surplus? Reading between the lines of discourse and action — Constanza Hepp
15. A degrowth scenario: Can permaculture feed Melbourne? — Terry Leahy
16. Future research directions for food for degrowth — Ferne Edwards and Anitra Nelson