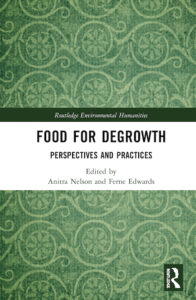 FOOD FOR DEGROWTH: PERSPECTIVES AND PRACTICES
edited by Anitra Nelson and Ferne Edwards
Routledge (Abingdon), 2021
ISBNs: 978-0-367-43646-9 (hbk)     and     978-1-003-00482-0 (eBook)
In the Routledge Environmental Humanities series, following on from Housing for Degrowth
The book review in Urban Geography concludes:
The book has a strong empirical basis and favors situated knowledge. Some of the chapters' authors do not only write from the perspective of academia but also from that of their direct involvement in alternative food initiatives, which produces lively and in-depth accounts of food initiatives. These empirical accounts are linked to theoretical debates; in particular, the relation between degrowth and other concepts (care, sustainability, and the circular economy) is thoroughly analyzed, shedding light on the commonalities and points of contrast across those terms. Finally, the book does not ignore the inherent contradictions and tensions of the degrowth movement … all tackled explicitly. Both accessible and thought-provoking, this book will be of interest to urban geographers interested in degrowth, how degrowth can shape cities and urban-rural relations, and the governance of urban transformations more broadly.
The endorsement of Vincent Liegey, degrowth researcher and practitioner, co-author of Exploring Degrowth: A Critical Guide (2020) and coordinator of Cargonomia — a centre for research and experimentation on degrowth, a social cooperative for sustainable logistical solutions and local food distribution using cargo-bikes in Budapest follows
Food for Degrowth is one more rich contribution to the Degrowth debates. As a multi-layered and multi-dimensional movement, Degrowth offers inspiring and complementary solutions from a large diversity of perspectives. After Housing for Degrowth, Food for Degrowth brings one more strong pillar showing that degrowth is not only necessary, not only possible, but mostly desirable and already happening here and around.
Kerry Woodward concludes his review in Agriculture and Human Values (details and links in 'Events, reviews and Media' below):
Overall, the collection offers insightful engagements with key questions for the degrowth movement, governments, communities,
and individuals around the world. Such as, what do food systems that are convivial, just and autonomous look like? How can we expand the reach and impact of marginal small-scale food collectives and cooperatives? What practical solutions are currently out there that are responding to the negative consequences of growth obsessed agribusiness and supermarkets?
Food for Degrowth is a must read for activists and scholars engaged with the degrowth movement. Additionally, in challenging the growth-centric nature of food systems, this book might offer new ways of thinking and seeing food for those interested in sustainable food studies or food systems. Finally, due to the accessibility of the contributions in the book, Food for Degrowth offers interesting reading for anyone who wants to think about how we grow and eat well on an increasingly degraded and climate constrained planet.
CONTENTS
1. Food for degrowth — Anitra Nelson and Ferne Edwards

Part I Frugal abundance
2. Replacing growth with belonging economies: A neopeasant response — Patrick Jones and Meg Ulman
3 Quietly degrowing: Food self-provisioning in Central Europe — Petr Daněk and Petr Jehlička
4. Learning degrowth from women's food knowledge and care in Kenya — Meike Brückner
5. Caring dachas: Food self-provisioning in Eastern Europe through the lens of care — Lilian Pungas
Part II Degrowth collectives
6. Germinating degrowth? On-farm adaptation and survival in Hungarian alternative food networks — Logan Strenchock
7. Nourishing self-planned socio-ecological transformations: A glocal CSA in Veneto, Italy — Silvio Cristiano, Marco Auriemma, Paolo Cacciari, Manola Cervesato, Domenico Maffeo, Paola Malgaretto and Francesco Nordio
8. Sustaining caring livelihoods: Agro-ecological cooperativism in Catalonia — Patricia Homs, Gemma Flores-Pons and Adrià Martín Mayor
Part III Degrowth networks
9. Co-creation for transformation: Food for degrowth in Budapest Food City Lab initiatives — Diana Szakál and Bálint Balázs
10. Technology for degrowth: Implementing digital platforms for CSAs — Ferne Edwards and Ricard Espelt

11. Institutionalising degrowth: Exploring multi-level food governance — Ferne Edwards, Sérgio Pedro and Sara Rocha
Part IV Narratives: Degrowth contexts and futures
12. Recycling old ideals? A utopian reading of 'circular' food imaginaries — Deborah Lambert
13. Degrowth, decolonisation and food sovereignty in the Cree Nation of Chisasibi — Ioana Radu, Émilie Parent, Gabriel Snowboy, Bertie Wapachee and Geneviève Beaulieu
14. Food waste or surplus? Reading between the lines of discourse and action — Constanza Hepp
15. A degrowth scenario: Can permaculture feed Melbourne? — Terry Leahy
16. Future research directions for food for degrowth — Ferne Edwards and Anitra Nelson
EVENTS, REVIEWS and MEDIA
Edwards F and Nelson A (forthcoming) 'Degrowth and food' (entry) in Lewis Holloway Mike Goodman, Damian Maye, Moya Kneafsey, Alexandra Sexton and Ana Moragues Faus (eds) Elgar Encyclopedia of Food and Society. Edward Elgar Publishing: Cheltenham UK/ Northampton MA.
Book review by Kerry Woodward in Agriculture and Human Values, see here.
Book review by Rituparna Patgiri at Doing Sociology here.
Five chapters from Food for Degrowth appear in the Taylor & Francis collection Sustainable Development Goals online (SDG Online), search here.
Book review of Food for Degrowth by Louise Guibrunet in Urban Geography published online 10 March 2021 — https://doi.org/10.1080/02723638.2021.1900515 — extract above
Book review 'Food for Degrowth: Alternative Food Networks Meets the Degrowth Movement' by Steven Liaros at Medium.
'Food sharing meets Food for Degrowth: Perspectives and Practices' post by Ferne Edwards 29 January 2021, on the SHARECITY site.
'Degrowth' post by Anitra Nelson at the University of Sydney's Progress in Political Economy site.
Chapter author Terry Leahy and co-editor Anitra Nelson interviewed by Alison Hanley for the Central Victorian Saltgrass podcast, 15 February 2021 here
International  book launch with co-editors Anitra Nelson and Ferne Edwards (NTNU, Norway) and chapter contributor Terry Leahy (University of Newcastle, Australia) at 4–5pm 23 February 2020, with Q&A. An official event of the National Sustainable Living Festival hosted by the Melbourne Sustainable Society Institute (University of Melbourne, Australia). Recording here
Also see videos related to the book's content: Logan Strenchock (author of Chapter 6) here and at the channel of Patrick Jones and Meg Ulman (co-authors, Chapter 2, in the photo) here.
At the Routledge site, you can view the first 20 pages or so (which includes the Introduction) here, by clicking 'Preview this title'.