Endorsements
With great insight, Anitra Nelson shows how collaborative housing is emerging across the world to re-ignite the 'Small Is Beautiful' spirit of E.F. Schumacher. This wonderful guide features inspiring examples for those who want to use shared eco-housing to tackle the challenges ahead.

Paul Chatterton — Professor of Urban Futures, University of Leeds, and co-founder of the Lilac cohousing co-operative
This is a timely report and a critical and informed exploration of an important and growing housing sector in which ideas of equity, sharing, and ecological responsibility are essential parts of real, successful communities. Anitra Nelson is a seasoned and respected academic with a strong passion and deep understanding of 'eco-collaborative housing' as both great places to live and as powerful models for making convivial human places in a crowded and stressful world.

Paul Downton — Ecopolis urbanist and cofounder of Christie Walk cohousing (Adelaide, Australia)
Small is Necessary is about one of the great crises and challenges of our time, accessing housing that is both affordable and sustainable.

This book ranges widely and interrogates deeply. It imaginatively opens new and challenging horizons on the need to find forms of housing that are communal, affordable and sustainable.

Peadar Kirby — Emeritus Professor of International Politics and Public Policy, and director of the Institute for the Study of Knowledge in Society, at the University of Limerick and resident of Cloughjordan Ecovillage in Ireland
Anitra's book takes you on a journey that peels away layer after layer of traditional housing models to show the reader more and more eco-collaborative possibilities. You are left with a whole new menu of how things could be, and an appealing and inspiring vision at the end.


Bronwen Morgan

—

Professor of Law at the University of New South Wales (Australia)
The centrality and urgency of this research cannot be overestimated … This book is a critical evaluation of case studies … The detail is very impressive; it leaves no stone unturned. Ariel Salleh — Associate in Political Economy at University of Sydney, Visiting Professor at Nelson Mandela University, and Fellow in Post-Growth Societies at Friedrich Schiller University in Jena — at the UTS Sydney event 12 April 2018
… an extensive chronology of housing which shows that sharing land and resources can help … address the broader sustainability challenges we face … packaged like a novel, it can be used as a pocket guide to read in segments … There are hundreds of references and case studies of local and international developments which are used to explain the ins and outs, successes and pitfalls of small housing and shared housing arrangements. Book review in Sanctuary Magazine 43: 14.
The findings the authors present challenge current thinking, are highly relevant to the future of available (building and dwelling) resources, and provide many valid alternatives to current housing production … do as the authors do: engage in the eco+sharing+demand-led housing debate professionally. As Pickerill and Nelson demonstrate, in today's society, self-providing low-impact environments are not standalone but demand collaboration both between residents and with housing professionals. Lidewij Tummers, Review of Small is Necessary and Eco-Homes (Jenny Pickerill) in Built Environment 45(3) September 2019: 437–440

Small and shared: low impact living
Does small mean less? Not necessarily. In an era of housing crises, environmental unsustainability and social fragmentation, the need for more sociable, affordable and sustainable housing is vital. The answer? Small and shared living —from joint households to land-sharing, cohousing and ecovillages.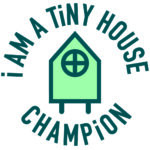 Using successful examples from a range of countries, Small Is Necessary shows how 'eco-collaborative housing' — resident-driven low impact living with shared facilities and activities — can address the great social, economic and sustainability challenges that householders and capitalist societies face today. Sharing living spaces and facilities results in householders having more amenities and opportunities for neighbourly interaction.
Small Is Necessary places contemporary models of 'alternative' housing and living at centre stage arguing that they are outward looking, culturally rich, with low ecological footprints and offer governance techniques for a more equitable and sustainable future.
Contents
INTRODUCTION
1. Less Is More: Living Closely on a Finite Planet
PART I COMPACT URBAN HOUSING
2. Once We Were Small: Traditional and Contemporary Homes
3. Apartment Living in Cities
4. Apartment Household Practices and Affordability
PART II ECO-COHOUSING AND ECOVILLAGES
5. From Sharing a House to Eco-cohousing
6. Ecovillages: Sustainability and System Change
PART III FUTURES: SCALING UP, SHARED LANDSCAPES, SHARED LIVELIHOODS
7. 'Will You Dance with Us?' Governments and Collaborative Housing
8. 'To Market, to Market': Eco-collaborative Housing for Sale
9. Grassroots Sustainability: Sociality and Governance
CONCLUSION
10. Small Is Necessary and, with Sharing, Feasible
Media
Click here to find items on the book — book note by Christine Ro at Environment & Urbanization (journal); August 2022 interview in City Monitor (UK); useful post for reading groups and classrooms, at the Pluto Press blog and the Progress in Political Economy blog; at The Fifth Estate; and the UK Learning and Improvement Network (LIN) blog; a book review in Sanctuary Magazine #43: 14; review in Book Notes on the International Institute for the Environment and Development journal Environment & Urbanization; report of the Sydney event and book on Pacific Edge blog; and mention at CoHousing Berlin. The book is in the Knowledge Unlatched select 2017 book collection, enabling open access to subscribed libraries. Read short interview here. More recent relevant work appears in Publications, such as: Blažek J, Chitewere T, Cornea N, Lockyer J, Macrorie R, Nelson A and Pickerill J (2023, early view) 'Urban ecological futures: Five eco-community strategies for more sustainable and equitable cities', International Journal of Urban and Regional Research.
To obtain
Available as a paperback, hardcover and eBook. Buy or order from your local bookstore, or purchase online here
This book has also been made available as an open access eBook by Knowledge Unlatched — see here