Housing for Degrowth European Train Tour 2018
27 October–4 December 2018
High mortgage debts, homelessness and destructive urbanisation?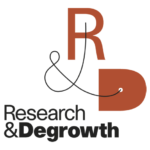 As researchers, practitioners and activists, co-editors of Housing for Degrowth: Principles, Models, Challenges and Opportunities Anitra Nelson and François Schneider presented an alternative degrowth narrative of housing at 27 events in 11 countries — France, the Netherlands, Germany, Poland, Hungary, the Czech Republic, Slovenia, Austria, Italy, Switzerland and Spain — at research institutes, universities, collective housing projects and central city venues (from 27 October (Lyon) to 4 December (Munich) 2018).
The book, which has 25 contributors, was released in the Routledge Environmental Humanities series in time for an international launch at the Malmö (Sweden) 6th International Degrowth Conference at the end of August. At this and many other events we were joined by other contributors to the collection and/or local urbanists, architects and sustainability experts. Read more about the tour at François's blog here.
Schedule
Where
Date
Time
Flyers
Venue
Host
Lyon
FRANCE
Saturday
27 October
19:00—20:30

Lyon invitation in French/Poster et annonce en français

Lyon poster
Première étape à Lyon du tour d'Europe en train pour l'habitat décroissant
Casseurs de pub
52 Rue Crillon, 69006 Lyon
http://www.casseursdepub.org


Den Haag
THE NETHERLANDS
Sunday
28 October
19:00 for 19.15 dinner start
Intervention on housing for degrowth and food in the Conscious Kitchen event
Good Food Good Farming Call for Action
De Gymzaal Witte de Withstraat
Witte de Withstraat 127
Contact: Ana-Maria: amagatejel (at) gmail.com
Delft
THE NETHERLANDS
Monday
29 October
19:00–20:30

See and download Delft poster
'Open Lecture: Housing for Degrowth'
Faculty of Architecture,
Delft University of Technology (TU Delft), room P
More info: https://www.facebook.com/events/311787196306199/
Contact: klimczak.ann (at) gmail.com
Wuppertal
GERMANY
Tuesday
30 October
17:00–19:00

See and download Wuppertal poster
Aula des Wuppertal Instituts
Döppersberg 19, 42103
https://wupperinst.org/
More details here and see poster in column to left
Contact: katharina.bohnenberger (at) wupperinst.org
Leipzig
GERMANY
Thursday
1 November
19:30–21:00

Details of event (bilingual)
Degrowth and Housing public panel event
with co-editors and contributor Nina Hurlin
Pögehaus
Hedwigstraße 20
Leipzig-Neustadt
Organiser: Konzeptwerk
Contact: Nina n.treu (at) knoe.org
Berlin
GERMANY
Friday
2 November
19:00–21:00

See and download Berlin poster
Event hosted by the great Crack Bellmer bar
Revaler Straße 99,10245 Berlin
as a session in Experiment Days
https://experimentdays.de/2018/ (RAW-Friedrichshain
Warschauer Brücke /Revaler Str.)
Contact: kristina.utz (at) fairbindung.org
Warsaw
POLAND
Sunday
4 November
17:00-19:30
'Housing for Degrowth—A Different Plan for Urbanisation'
Cafe Kryzys
ul. Wilcza 30, 00-544 Warsaw
https://www.facebook.com/events/260925017884452/
Budapest
HUNGARY
Tuesday
6 November
12:30–14:00
Central European University
Nador Utca 15, Room 203
1051 Budapest
https://www.ceu.edu/
Details: https://www.facebook.com/events/291474838135222/
Budapest
HUNGARY
Tuesday
6 November
18:30–21:00
Public participatory discussion —
Housing for Degrowth: join us to rethink together the city
Kelet Cafe
Kelet Kávézó és Galéria
Bartók Béla út 29
Budapest, Hungary
Details: https://www.facebook.com/events/1712797612159406/

Brno
CZECH REPUBLIC
Thursday
8 November
14:00–15.30

See and download Brno 14hr poster
Student lecture/seminar
Faculty of Social Studies
Masaryk University Brno
Lecture room U42, 4th floor
Joštova 10, 602 00 Brno
Contact: jan.blazek86 (at) gmail.com
Brno
CZECH REPUBLIC
Thursday
8 November
19:00–20:30

See and download Brno 19hr poster
Public discussion
Biosibiř (a new self-organised space in an old cinema)
Dukelská 50
602 00 Brno
Contact: jan.blazek86 (at) gmail.com
Ljubljana
SLOVENIA
Saturday
10 November
16:00–19:00

Web page here
'Bivanje odrasti'
Public event
Kucha, Mašera-Spasićeva ulica 8, Ljubljana
https://www.facebook.com/kuchamadre/
More details: https://www.facebook.com/events/2117434501844442
Contact: ahac.meden (at) zrc-sazu.si
Trieste
ITALY
Sunday
11 November
17.00–19.00
'Abitare la decrescita: Immagini per un urbano differente'
Public discussion with local people and members of different collectives and initiatives.
Venue: Espace M'old (https://www.facebook.com/Espace-Mold-2009296375999074/)
Contact: fulviafe (at) gmail.com
Venice
ITALY
Monday
12 November
18.30–23:00

See poster here
Convivial meeting
hosted by Associazione About
Santa Croce 1166, Venice
Organiser: Associazione per la Decrescita
Contact: si7vio (at) gmail.com
Venice
ITALY
Tuesday
13 November
09:30–11:00

See poster here
'ABITARE LA DECRESCITA —
Casa e città altre: giustizia, sostenibilità, beni comuni, comunità'
Student lecture but open university-wide
Design and Planning School in Complex Environments Università IUAV di Venezia
Ca' Tron, Santa Croce 1957
Venice
Contact: si7vio (at) gmail.com
Vienna
AUSTRIA
Wednesday
14 November
13:50–15:40
Co-editors with Fritz Hinterberger (SERI) on panel —
'Investing "green" or "brown" — Here is the next bubble'
Growth in Transition Conference
Austria Center Vienna
Bruno-Kreisky-Platz 1
1220 Vienna
Organiser: Fritz Hinterberger (SERI)
Zürich
SWITZERLAND
Thursday
15 November
20:00–21:30
Public event
Host: Neustart Schweiz
At: L200
Langstrasse 200
8005, Zurich
Turin
ITALY
Friday
16 November
14:30–

See and download Turin seminar flyer

More details here
Polytechnic University of Turin
Sala Vigliano
Castello del Valentino, 1st floor
DIST, Politecnico di Torino
Castello del Valentino
Viale Mattioli 39
Contact: karlk (at) posteo.net
www.dist.polito.it
Turin
ITALY
Friday
16 November
19:00

See flyer details
Convivial meeting with Turin Degrowth Group,
Polo Culturale Lombroso 16,
via Lombroso 16.
More details here
contact: karlk (at) posteo.net
Rome
ITALY
Sunday
18 November
19:00

See image here.

Puzzle (occupantes space)

See details here: https://www.facebook.com/events/2218391618450255/
And here at DINAMOPress Events
Rome
ITALY
Monday
19 November
11:00–

See and download flyer here
Abitare la Decrescita. Principi, Modelli, Sfide e Opportunità
Round table with Sandra Annunziata (Urbanist, Roma Tre),
Marco Burrascano (Architect, Roma Tre),
Nadia Nur (Sociologist, ISTAT),
Luca Salvatici (Economist, Roma Tre),
moderated by Mario Cerasoli.
'SALA CONVEGNI' of the Città dell'Altra Economia
(Campo Boario, Ex-Mattatoio — Largo Dino Frisullo, Roma),
00153 Rome, Italy
Barcelona
SPAIN
Wednesday
21 November
15:00–17:00
'Housing and narratives' lecture
Political Ecology, Degrowth and Environmental Justice Masters Course
ICTA UAB
Portbou
SPAIN
Friday
23 November
19:30–

See and download flyer here
Discussion on degrowth and housing
with, and hosted by, the
International Simmelian Association
at the Centre Cívic de Portbou
Carrer Mendez Nuñez, 2
17497 Portbou.
Barcelona
SPAIN
Sunday
25 November
11:00–13:00
Talk on degrowth, housing and gender
Sala PIC
Can Masdeu
Twitter: @canmasdeu
FB: Can Masdeu
Barcelona
SPAIN
Tuesday
27 November
19:00–20:30

See and download flyer here
Barcelona Book Launch: Housing for Degrowth
With co-editors Nelson and Schneider
and contributors Joan Martinez-Alier and Mara Ferreri
RMIT Europe
Carrer de Roc Boronat, 117
08018 Barcelona
More details and register with Eventbrite here
Contact: anitra.nelson (at) rmit.edu.au
Munich
GERMANY
Monday
3 December
Afternoon–early evening
Lecture in a half-day Multidisciplinary Seminar —
architects and engineers, humanities and social science students
Organised by and at the Technical University of Munich
Technical University of Munich
Arcisstraße 21
80333 München
with their Rachel Carson Centre for Environment and Society colleagues
Munich
GERMANY
Tuesday
4 December
16:15–17:15
'Two books: Housing for Degrowth and Small is Necessary'
in the Tuesday Discussion series
Rachel Carson Centre for Environment and Society
Ludwig Maximilian University
Leopoldstr. 11a,
D-80802 Munich